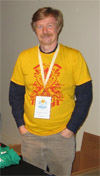 pdxmobile.com has been thinking about some hot mobile topics.
Hang around mobile development long enough and you will hear developers speak of their hatred of RIM.  Check out Why do developers HATE RIM?
On a more positive note, what does The Future of Mobile Search have in store for us?
Check out these new mobile articles at pdxmobile.com